Short Term Loans
Get Quick Cash with Short-Term Loans in Canada - Fast Approval, Flexible Repayment, No Credit Check Required.
How Much Do You Need?
Won't impact your credit score!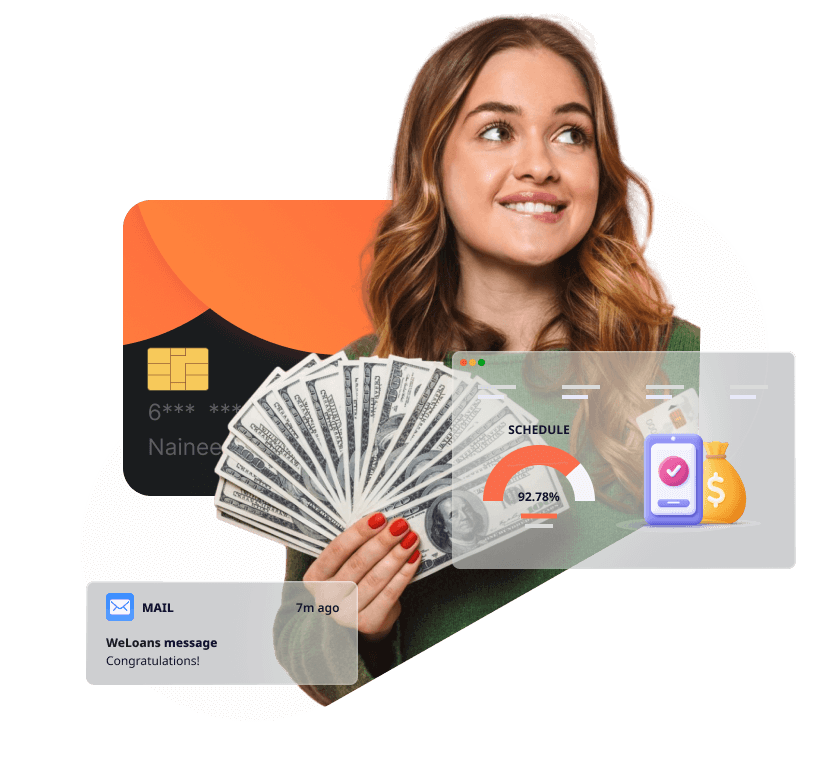 Get Quick and Easy
Short-Term Loans

in Canada

It's challenging to plan for urgent expenses as they are usually unpredictable. However, if you can't wait until your next paycheck, you may apply for short-term loans and cover these expenses.

At WeLoans, we connect you with several lending partners that offer you short-term loan options with 98% approval rates.
How to

Qualify for Short-Term Loans in Canada?

To qualify for short-term loans in Canada, you must meet the following requirements:
Be a Canadian resident over the age of 18.

Be employed for at least three months with a net income of over $800.

Provide a government-issued photo ID.

Provide an address proof such as your utility bill.

Have a valid and active bank account.

Have a valid email address and phone number.
Apply for

Online Short-Term Loans in 3 Easy Steps

Here's a step-by-step guide to how E-Transfer payday loans typically work:
Apply

Fill in your details to apply for a short-term loan, including your name, income, credit scores, etc.

Get approved

Our lending partners will review your application before approving the loan, after which you can choose the right plan.

Get funded

Once you choose a lending partner, the loan amount will be transferred into your account within 24 hours.
Types of

Short-Term Loans Available
These are short term loans designed to cover cash shortfalls between your paychecks. Payday loans are usually for smaller amounts of money and are unsecured.

It is a type of loan that is repaid in regular, fixed payments over a set period. They can be used for various purposes, such as consolidating debt, financing large purchases, or covering unexpected expenses.
Why Should

You Get a Short Term Loan Online?

Online short-term loans offer a variety of benefits that make them an attractive option for those needing immediate financial assistance. A few of the benefits include:
Fast approval
Generally, your loan application is approved by our lending partners within 5 minutes.
Quick funding
Once approved, the loan amount is disbursed to your bank account in as few as 24 hours.
No Credit Check
Many short-term online loans do not require a credit check, which can be helpful for those with less-than-perfect credit scores.
Flexible Repayment
Most of our lending partners offer flexible repayment options making it easier for you to repay the loan.
Can I

Get Short Term Loans With Bad Credit?

Yes! You can get online short-term loans with bad credit. Our lending partners approve your application after considering multiple factors, including your employment and source of income.
FAQs
1. What is a Short Term Loan?

A short-term loan is a payday loan or an installment loan that provides liquidity to cover unforeseen or urgent expenses.

2. How Can Short Term Loans Help You?

Short term loans can be used to cover expenses related to medical emergencies, house or car repairs, and even to consolidate debt.

3. Can I Get No Credit Check Short Term Loans?

Yes, you are eligible to receive short term loans without a credit check. Lenders of no credit check loans consider several other factors, such as your income source and employment status, before approving your loan application.

4. How Much Can I Borrow?

The amount you can borrow depends on factors such as your employment status and income. Typically, you can borrow up to $1,500 via payday loans and installment loans.

5. I'm Unemployed. Can I Get Approved for Online Short Term Loans?

Yes, in some cases, you can use income from government benefits such as child tax and unemployment payouts to apply for short term loans.

6. How Do I Repay My Loans?

Repayment options for short-term loans in Canada can vary depending on the lender. For example, some may offer e-transfer auto deposits from your bank account, while others may provide an option to make payments online.
Apply for Short-Term Loans Online!
Get the funds you need today with a short term loan in Canada. Apply now to get fast approval and quick funding!
APPLY NOW