Installment Loans Canada
Apply now for affordable installment loans in Canada and get the funds instantly in your bank account.
How Much Do You Need?
Won't impact your credit score!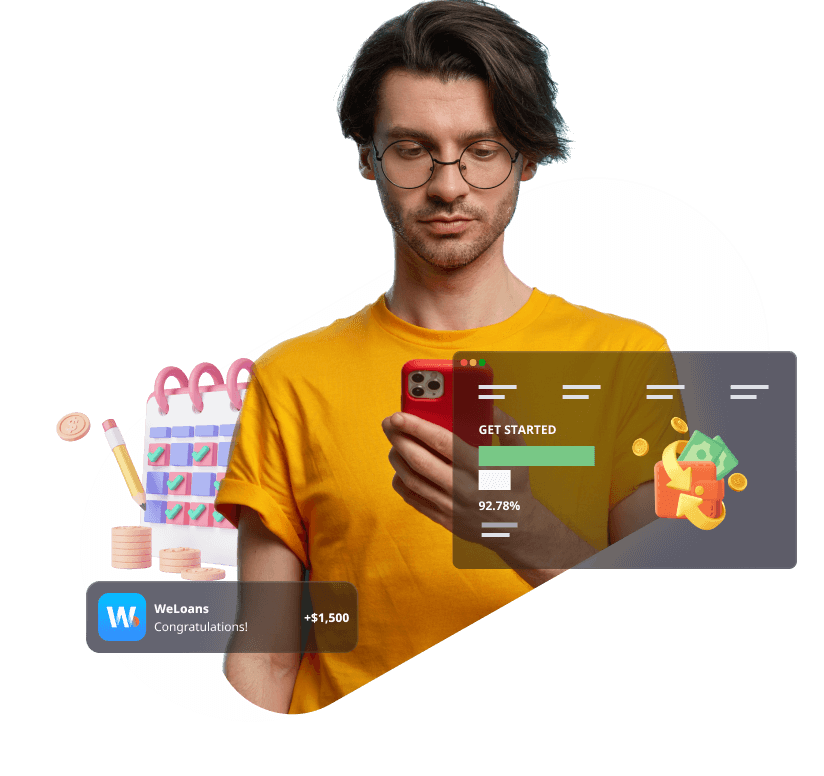 Why

Installment Loans?
All credit types accepted

Installment loan providers typically allow even those with a bad credit score to apply for a loan. Several other factors, including your income, loan amount, and length of the loan term, are considered.

Low-interest rates

Interest rates on online installment loans are fixed, so you can know exactly how much you need to repay. The interest rates are also lower compared to other credit options.

Quick cash

With a turnaround time of fewer than 24 hours, you can benefit from an instant payout by filling out our online application form, which connects you to our lending partners.

Flexible terms

Installment loans are customized to meet the unique needs of our customers. The terms are flexible, and a range of repayment options are available.

No collateral required

The installment loans are collateral-free, making them a good option for those who don't have to risk losing their assets and for those with no access to traditional banking services.

Repay in installments

A manageable loan repayment schedule allows you to quickly repay your installment loan within a fixed period of time. The loans are repaid in equal monthly installments ranging from 3 to 6 months.
What Can

You Use The Online Installment Loans For?
Reduce or eliminate credit card debt

You can use an online installment loan to reduce or eliminate your credit card debt, lowering associated interest payments considerably.

Repairs and maintenance

Assets such as your house and cars need regular maintenance, which can be expensive. Installment loans provide you with short-term liquidity to meet these expenses.

Personal goals

Whether it is your wedding, anniversary, or any other major life event, installment loans online can be used to fund these expenses.

Working capital

Installment loans can benefit small business owners struggling with working capital or cash flow needs by infusion of short-term capital.
How To

Apply For Installment Loans In Canada?

Here at WeLoans, you can apply for an installment loan in Canada in 3 easy steps.
Step 1: Apply online

A fast and straightforward application process takes less than a few minutes to complete.

Step 2: Accept offers

You will get offers from various lenders. Compare the offers and make an informed decision.

Step 3: Avail funds

Once the loan is vetted and approved, you will receive the funds in your bank account within 24 hours.
How Long

Is The Loan Term?

The loan term should be based on your repayment capabilities. It varies from 6 months up to 36 months for borrowers. A longer term will lower monthly payments but will increase interest costs. Alternatively, a lower period will have higher monthly payments and cost less, depending on the lender.

Get Started
How To

Qualify for Installment Loans Online

To qualify for an instant approval installment loan, you need to:
Be a Canadian citizen over the age of 18

Have a full-time job

Have not filed for bankruptcy

Have a bank account that is at least three months old

Be a resident of the province where the loans are offered
Can I

Get Bad Credit Installment Loans?

You may struggle with financial constraints, especially if there is an unexpected loss of income, but poor credit may prevent you getting a bank loan. Don't fret. Our bad credit installment loans are the best bet for you.

Our lenders will focus more on your repayment ability than your credit score when you apply for one by evaluating your income, debt-to-income ratio, previous debt repayments, and recent financial handling.
Is It

Possible To Get No Credit Check Installment Loans?

We keep things simple and connect you with installment loan lenders that don't require a credit check, making the disbursement process faster. Basically, these lenders focus on the income of the borrower and your ability to repay these loans.
FAQs
1. How do installment loans in Canada work?

Installment loans are given to those who need short-term capital. On approval, the borrower makes regular interest and principal payments each month.

2. How much can I borrow?

The installment loan amount varies from each lender. However, the average amount that can be borrowed ranges from $1,500 to $20,000.

3. What's the difference between payday loans and installment loans?

Payday loans are typically due on the borrower's next payday, usually within two to four weeks. Comparatively, installment loans have a more extended repayment period, usually several months to a year.

4. Who can apply for an installment loan for bad credit in Canada?

An installment loan for bad credit is a loan that is specifically designed for individuals who have a lower credit score and those in need of emergency funds.

5. How quickly will I receive the installment loans?

Generally, installment loans can be processed within 24 hours.

6. How can I make loan repayments?

You can make monthly repayments to the lender. There is also a possibility to prepay your loan if the lender has flexible payment terms.
Home
 > 
Installment Loans Canada
Get Your Installment Loan Today
Don't let unexpected expenses or a temporary cash shortage hold you back! Instead, apply for an installment loan in Canada today and get the financial support you need.
APPLY NOW