Online Loans Canada
Get the Funds You Need, When You Need Them: Apply for Online Loans in Canada Today!
How Much Do You Need?
Won't impact your credit score!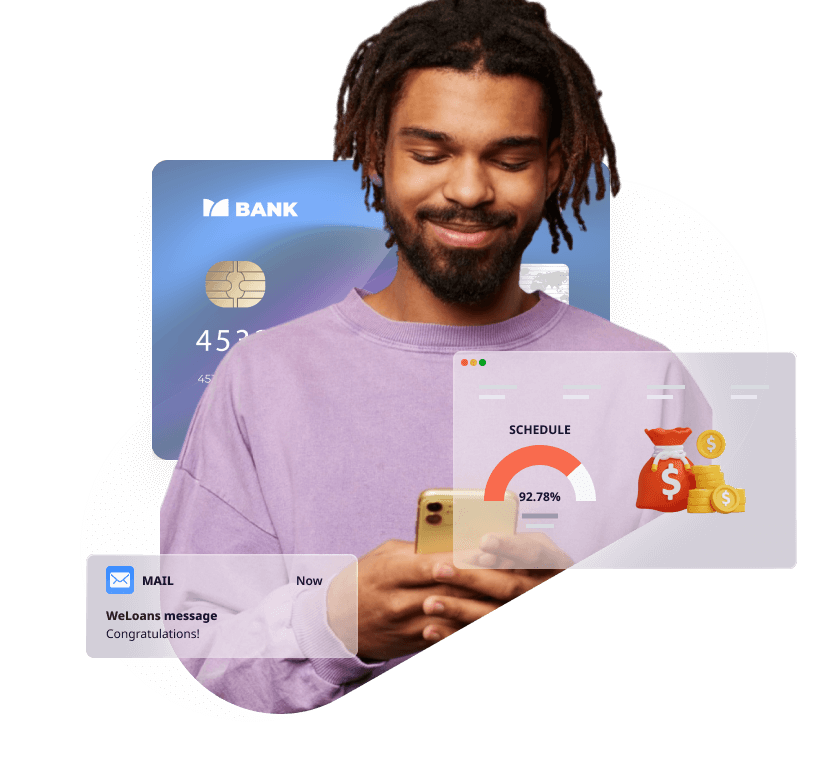 Benefits of

Getting Loans Online

The benefits of getting online loans in Canada are numerous and can provide a solution to a variety of financial needs.
More convenient & faster process

With online loans, you can apply from the comfort of your own home and receive an approval decision in minutes. The process is quick, easy, and convenient.

Better interest rates and smaller service fees

Online lenders often offer more competitive rates and lower fees than traditional banks and financial institutions. This can result in significant savings over the life of your loan.

Higher approval rates

Online lenders often use alternative methods to evaluate loan applications, which can result in higher approval rates for borrowers with less-than-perfect credit.

Collateral not needed

Many online loans do not require collateral, which means that you don't need to put up valuable assets as security.

Easier to compare

With online loans, you can easily compare rates and terms from multiple lenders with just a few clicks.

No credit checks

Typically, online lenders do not perform credit checks, which means that you can receive funding even if you have a bad credit score.
Online Loans

Available at WeLoans
How to

Apply for Online Loans in Canada?

Avail of an online loan in three easy steps:
Step 1: Apply Online

Click here to apply for a loan online. You'll need to provide some basic information about yourself and details regarding your income sources and bank account.

Step 2: Get Your Funds

Once your loan is approved by our lending partners and you accept the offer, you can expect to receive the funds in your bank account within 24 hours.

Step 3: Repay the Money

You will then need to repay the loan according to the terms and conditions agreed upon with the lender, which may include regular interest and principal payments.
How Fast

Can I Get an Online Loan with WeLoans?

WeLoans has several lending partners who will evaluate and disburse your loan within 24 hours. The processing time may even be as less as a few hours, and the funds will be transferred to your bank account.
How Much

Can I Borrow With Canada Online Loans?

The amount you can borrow with online loans in Canada can vary depending on several factors, including your income, credit history, the lender's lending policies, provincial regulations, and your repayment ability. The lending limit with most lenders is $20,000.
A Few Questions

to Ask Before Getting Loans In Canada

Before applying for an online loan, you need to ask a few questions such as:
1. Do I really need this money right now?
Online loans can be expensive. So, evaluate your financial needs and compare other cheaper alternatives before finalizing your decision.
2. Is this loan going to cost me a lot?
Online loans generally have higher interest rates compared to traditional loans, which might impact your repayment abilities. You need to opt for a loan with a reasonable interest rate.
3. Will I be able to repay the loan back on time?
Ask yourself if you have the financial flexibility to repay the loan back in time without paying any additional charges related to defaults.
4. What happens if I can't pay the loan off on time?
In order to avoid late fee charges, higher interest rates, and even legal repercussions, ensure you can pay back the loan on time.
FAQs
1. Are online loans safe?

Online loans can be safe if the lender you choose is reputable. WeLoans provides you with access to several reliable online lenders in Canada.

2. How to vet an online lender?

You need to ensure that the lender is licensed and regulated. Also, check customer reviews of the lender as well as the terms and conditions offered by them.

3. What is the easiest loan to get online?

The easiest loan to get online depends on your financial situation and credit history. Buy payday loans, installment loans, and personal loans are easy to access.

4. What are online loan funding options?

Our lending partners offer a variety of funding options that include e-transfers, direct deposits, cash, and even store pick-up. The funding options depend on the preferences of the lender and borrower.
Home
 > 
Online Loans Canada
Take control of your finances today!
Apply for an online loan now and experience the convenience and flexibility of fast, easy financing. Start your application for online loans in Canada and get the funds you need!
APPLY NOW