Loans for Unemployed in Canada
If you are wrestling with cash flow issues due to unemployment, apply for a loan for the unemployed and get funded today!
How Much Do You Need?
Won't impact your credit score!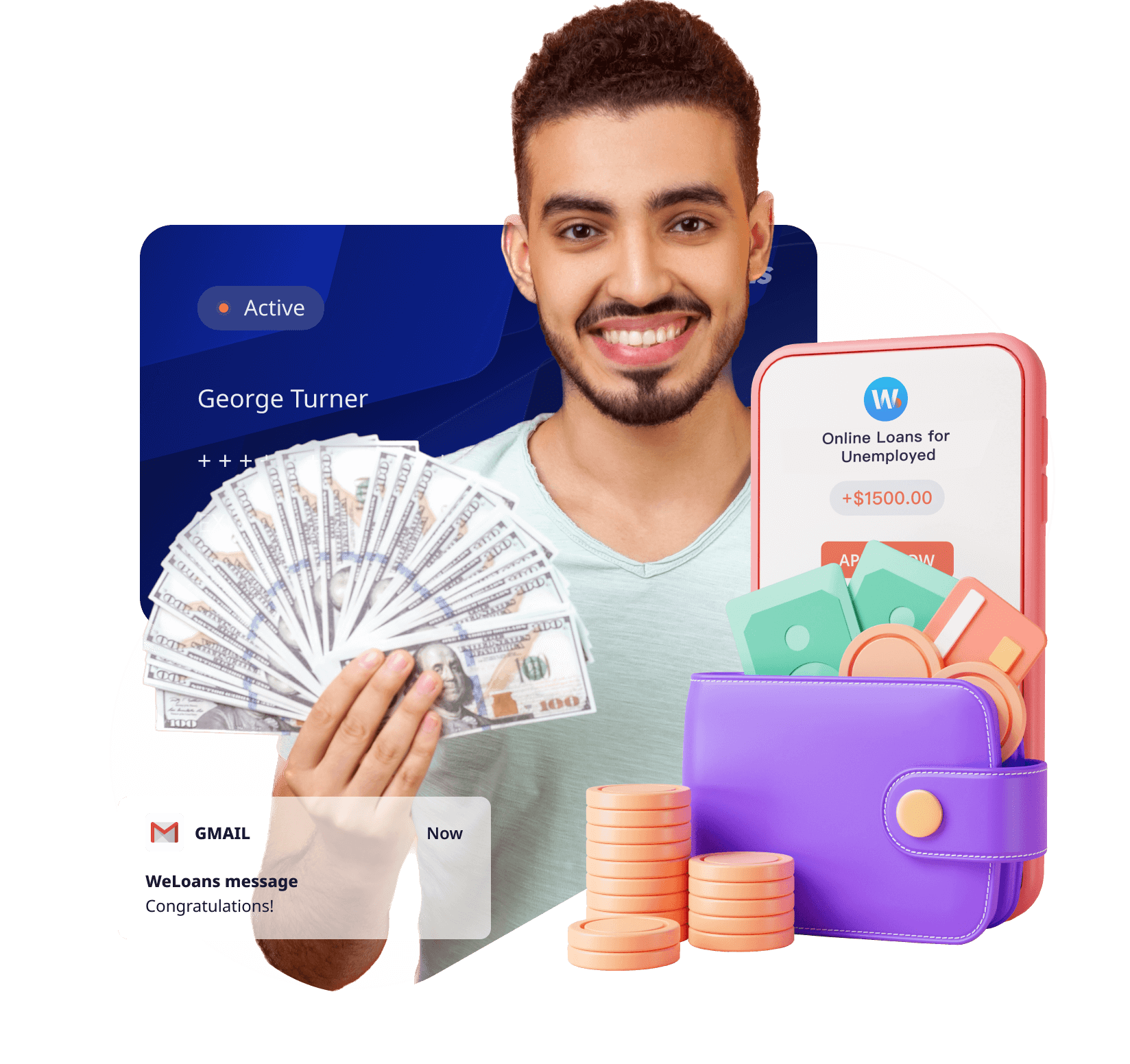 How Do

Loans for Unemployed Work in Canada?

Whether you are impacted by the latest round of corporate layoffs or quit your job for personal reasons, unemployment can take a toll on you and your family. Good news is that, many Canadian lenders offer residents Unemployment Loans.

You only need to provide proof of non-employment income, such as ODSP or social assistance, to show your ability to repay.
Types of

Unemployment Loans in Canada

There are a few types of unemployment loans that you can avail of in Canada, such as:
These loans are typically paid back in fixed, equal payments over a set period. Installment loans provide a way for you to access credit and cover expenses while looking for a new job.

It's easy to qualify for a payday loan in Canada. Payday loans are ideal for those with poor credit scores and looking for short-term capital. But payday loans have short repayment cycles and higher interest rates. You need to pay it back when you receive your next income.
Getting Loans for Unemployment

Is Easy

The application process for unemployment loans is extremely streamlined here on WeLoans. Here's how you can get one with us:
Fill out an application form

Access our loan request form and fill in the required details, including your basic info and the loan amount.

Get loan offers

Once the application is submitted, our lending partners will review your application and make an informed decision on the request.

Sign the agreement

You need to compare multiple offers from our lenders and sign the contract with the most favorable terms and conditions.

Get your money

The money will be transferred to your bank account once the loan agreement is finalized. You can access the money typically by the end of the next business day.
What Makes

Unemployment Loans a Good Option?
Non-employment income accepted

You can use benefits like CPP and EI to show your ability to repay the loan for the unemployed.

Quick access to funds

Unemployment loans can be approved quickly and disbursed within a short period, typically in 1 or 2 business days.

No credit check

The loans are often offered with no credit check, making them accessible to those with poor credit who may not qualify for traditional loans.

No collateral

Loans for unemployed people are typically unsecured, meaning you don't have to put up collateral to secure the loan.
What Can

Unemployment Loans in Canada Be Used for?

It may be challenging to cover daily expenses when you are unemployed. So, you can apply for an unemployment loan that can be used for a variety of purposes, including:
To fund job search expenses
You can use unemployment loans to cover expenses associated with a job search, such as transportation costs, resume printing, and interview attire.
To cover basic living expenses
Unemployment loans in Canada can cover expenses such as rent, utilities, and groceries.
To invest in job training or education
Upskilling can be expensive. An unemployment loan can be used to cover education programs.
To pay off debt
These loans can be used to pay off high-interest credit card debt or other loans taken out while you were employed.
To start a business
Unemployment loans can help unemployed individuals start their own businesses and become self-employed.
Eligibility Criteria

for Unemployment Loans

While unemployment loans are usually easy to qualify for, there are a few eligibility criteria, such as:
Income

You should have some form of income to cover loan payments. These income sources may include Employment Insurance, pension payouts, Child Tax Benefits, and other government programs.

Credit score

A decent credit score will accelerate the loan disbursement process. Alternatively, your lending options may be limited if you have a history of credit defaults, bad credit, or a recent bankruptcy filing.

Identity

You must also submit documents to verify your identity and address. It includes documents such as your passport, driver's license, bank statement, utility bills, and social insurance number.
How to

Compare Unemployment Loans?

You can get multiple unemployment loan offers if you apply through WeLoans, which works with many industry-leading lenders. So you need to weigh each option carefully. Here are some factors to consider:
Interest rates

Compare the interest rates offered by each lender and calculate the cost of debt. Generally, interest rates should be affordable with reasonable repayment terms.

Additional costs

It's crucial to check any additional costs associated with these loans, such as processing fees or prepayment penalties.

Disbursement time

In case you require the unemployment loan urgently, it's advisable to look at the disbursement times of the lenders.
FAQs
Can You Get Payday Loans for Unemployed While on Benefits in Canada?

You can access ei payday loans in Canada on WeLoans, even if you are on benefits. Our online lending partners assess your application and may approve and e-transfer the loan amount to your bank account within 24 hours.

How Can You Take Out a Loan With No Job?

Canadians can qualify for unemployment loans if they have an alternate source of income. These include government benefits such as child care and unemployment insurance, disability benefits , rental income, and pensions.

Is It Possible to Get Online Loans for Unemployed With No Credit Checks in Canada?

Yes, you can get online unemployment loans at WeLoans without any credit check. You need to provide proof of non-employment income and contact info.

Can You Obtain 1-Hour Loans With No Employment Verification in Canada?

Yes. At WeLoans, we provide you with access to lenders with quick turnaround times and no employment verification.

The loan verification depends on your ability to repay the principal and interest. So, you need to either have enough capital in your bank account, or recurring non-employment income to convince the lender.
Home
 > 
Loans for Unemployed in Canada
Get an Unemployment Loan Today!
Don't let unemployment hold you back! Apply on WeLoans now for unemployment loans with low costs and high approval rates!
APPLY NOW