Loans for Bad Credit
Apply for a bad credit loan now and get access to funds instantly in your bank account.
How Much Do You Need?
Won't impact your credit score!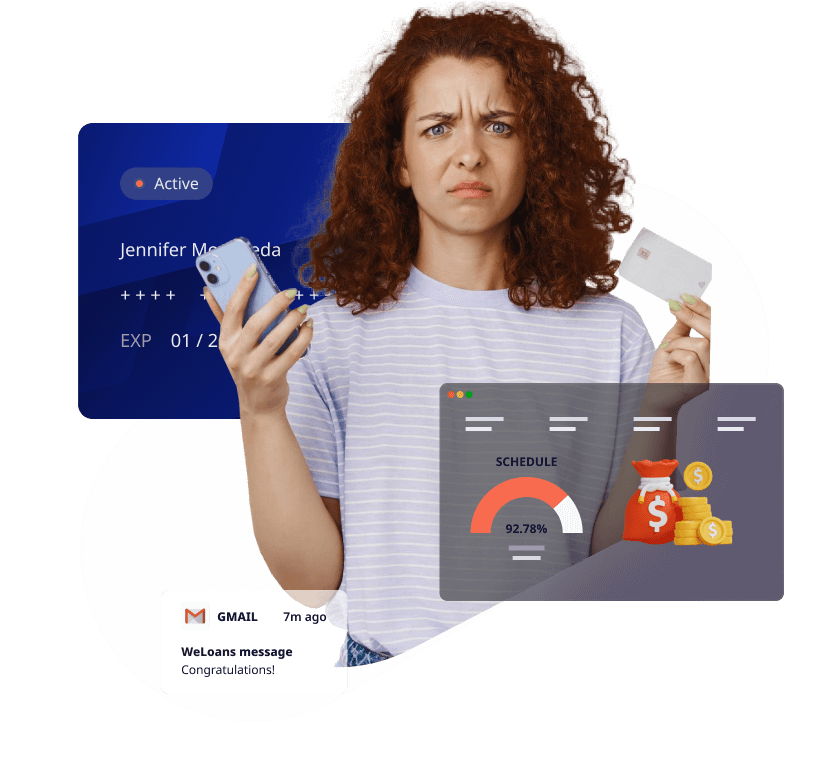 Get
Loans for Bad Credit

Easily & Quickly

Most lenders in Canada evaluate your credit history to determine if you qualify for a loan. But our lending partners at WeLoans consider other metrics, such as your income source and employment status to measure your repayment ability. As long as you meet these simple criteria, you should be approved for bad credit loans instantly.
How Do

Bad Credit Loans Work?

To avail of a bad credit loan, you need to:
Submit your application

Apply for a bad credit loan here in a fast and secure way. We use your details so we can find you the best possible offer.

Get customized offers

Our technology-powered platform helps you connect with our lenders who will send you an offer based on your application details.

Get funded

Once your application is approved, you will receive the amount in your bank account typically within 24 hours.
Approval Criteria

for Loans for Bad Credit

To qualify for an online loan with bad credit in Canada, you need to:
Be over the age of 18
Have a Canadian residency or citizenship
Have a valid bank account
Have a monthly income of at least $800
Be employed for at least six months
Get Started
Advantages of

Taking Out Online Loans for Bad Credit

There are a few benefits you can enjoy while taking out a bad credit loan online with WeLoans. Some of them include the following:
Fast approval

Most financial lenders have a slow approval process as they have a detailed due diligence process. Here, at WeLoans, your loan will be approved by lenders within 24 hours.

Easy to Get

If you have a bad credit score and apply for a loan from a Canadian bank, you will most likely have to talk to a loan specialist. With WeLoans, you can get a poor credit loan with only a few clicks.

Traditional lenders use your credit score as the most important criterion to evaluate your loan. But our lending partners will only check your source of income and repayment ability before disbursing the loan.

Low, Fixed Interest Rates

Our lending partners offer applicants fixed-interest loans at a competitive rate. So the interest cost will remain unchanged over the course of the loan, making it cheap and accessible.
What Can

Online Bad Credit Loans Be Used for in Canada?

Poor credit loans in Canada can be used to meet any unforeseen expenses, especially if you don't have adequate savings. You can also use bad credit loans for:
Consolidation of high-interest debt

Loans for bad credit can be used to consolidate high-interest credit card debt or personal loans, allowing you to manage debt easily.

Covering unexpected expenses

These loans can be used to cover unexpected expenses such as car repairs or medical bills that cannot be covered by savings or other means.

Home improvements

Loans for poor credit in Canada can also be used to finance home improvements, such as a new roof or remodeling a kitchen.

Starting a small business

Entrepreneurs with bad credit history may use bad credit loans to finance the start-up costs of a small business, such as inventory or equipment.
FAQs
1. What is considered a bad credit score?

According to FICO ratings, which range between 300 and 850, a score below 580 is considered bad. Similarly, VantageScore, which has a similar range, considers any score below 600 as poor.

2. Can I find guaranteed approval loans for poor credit in Canada?

There is no such thing as a guaranteed approval loan for poor credit in Canada. Lenders always assess the risk of lending money to an individual based on various factors, which may include your income and employment status.

3. How much can I borrow with online bad credit loans?

The amount that can be borrowed with an online loan for bad credit in Canada can vary depending on the lender and your specific circumstances. Some lenders may offer loans for as little as a few hundred dollars, while others may offer loans for several thousand dollars.

4. What documents do I need to tender for online loans for bad credit?

Typically, you will have to provide documents relating to your proof of income, identity, residence, and bank account. But this list may vary depending on the lender.

5. Can I apply for online bad credit loans if I'm unemployed?

It is possible to apply for an online bad credit loan in Canada if you lost your job but have other sources of income, such as Child Tax, ODSP , or EI . But the terms may not be as favorable as they would be for someone with a steady job.

6. When will I receive my bad credit loans?

You will generally be able to access funds within 24 hours if your application is approved by the lender.

7. Is it possible to get approved for bad credit installment loans with guaranteed approval?

There is no guarantee for approvals of bad credit installment loans. The lender will assess the risks associated with lending you money and decide if the application has to be approved.

8. When I have bad credit, should I choose high risk loans guaranteed approval in Canada?

It is generally not recommended to choose high-risk loans with guaranteed approval in Canada if you have bad credit. These types of loans may come with extremely high-interest rates and fees, which can make them very expensive in the long run.
Home
 > 
Loans for Bad Credit
Get Online Loans for Bad Credit Now!
Don't let bad credit hold you back from achieving your financial goals. With the right lender and a clear plan for repayment, you can secure the funds you need to make your dreams a reality.
APPLY NOW